Is okra water good for diabetes? How to prepare okra water for diabetics? Can it really help relieve the effects of diabetes? In what forms can it be consumed? And finally, what are the good okra recipes that we recommend?
I. What Is Okra?
Okra is a vegetable most commonly found in India and Africa. Also known as lady finger, it is one of the most vitamin C rich vegetables. It is often used in cooking as a condiment to prepare appetizing dishes.
This vegetable, mainly known for its usefulness in cooking, also has incredible health benefits for the whole body.
II. Is Okra Water Good for Diabetes?
1. What Do Scientific Studies Say About Okra for Diabetics?
According to scientific studies conducted in 2005, people who have the habit of consuming okra are half as likely to develop diabetes.
Indeed, researchers through numerous experiments have managed to prove that okra water has the ability to reduce blood sugar levels.
2. How Does Okra Act on Blood Sugar
The first thing to remember is the fact that okra has a rich and varied nutritional value, vitamins, and antioxidants, and okra also has fibers that play a role in relation to blood sugar levels.
Indeed, consuming fibers is also to facilitate the intestinal transit and in passing, to control in a way the glycemia.
You will have understood it then, considering that the okra is generous at the level of its content of fibres (3,2 grams of food fibers for a quantity of 100 grams of okra), it impacts the dynamics of control of the glycemia.
The positive effects of consuming okra when suffering from diabetes is recognized by diabetics themselves who have experienced it, but also by a scientific study.
Published in 2011 by the National Center for Biotechnology Information and BioAllied Sciences, the study revealed that when diabetic mice consumed dried and ground okra peels, their blood sugar levels decreased.
And by continuing this process over a longer period of time (10 days), the reduction in blood sugar levels was much greater.
So consuming okra is one more opportunity to regulate the blood sugar level but especially, to bring it to a normal stage: fasting between 0.70 and 1.10 grams per liter and 1h 30 after a meal, less than 1.40 grams per liter.
III. How to Use Okra for Diabetes?
1. How to Prepare Okra Water for Diabetics?
When one is diabetic, it is important to pay attention to the food ingested. Type 1 or type 2 diabetes is related to the same concern of insulin malfunction.
In order to avoid this last one, manufactured by the pancreas, remains at the stage of insufficiency, it is more than essential to adopt a healthy diet.
Thanks to the tropical plant called okra, and more precisely to its form in maceration in water, it will be possible to benefit from the advantages of this almost miraculous mixture: okra water.
How to make okra water?
Ingredients:
3 or even 4 pieces of raw okra
A glass of water
Preparation:
Take the pieces of okra and then, cut them into very small pieces.
Once the pieces of okra are cut, put them in the glass of water.
Now, let the glass of water with the pieces of okra, act all night.
When you wake up, consume this drink 30 minutes before having your usual breakfast.
The effects of this drink, on your body, will not leave you indifferent and you will be quickly conquered by this beverage!
2. How to Drink Okra Water for Diabetes?
Okra water should not be consumed in any way. It is necessary to drink it in reasonable quantity. A glass of water after waking up in the morning, and this, at least 30 minutes before breakfast, should be enough to strengthen you during the rest of the day.
It should also be noted that to fight diabetes, the amount of okra to use is 30g/l.
3. How Long Does It Take for Okra Water to Work?
The effects of okra water in the body are almost immediate. First of all, on the blood sugar level, but also on the state of the whole body.
You will feel renewed throughout the day. But you will need to drink it daily over several days to see any progress in blood sugar levels.
4. How Do You Make Okra and Garlic Tea?
To prepare this tea, you must first peel the garlic cloves. Then, put the garlic and the dried okra seeds in water that you will boil. Strain the contents and enjoy the recipe.
5. Okra Juice
To prepare the okra juice, you must first cut the ends of 4 okra that you will then rinse, before putting them in a glass.
You must also open the okra by making a long slit for each of them. Then add a 240 ml cup of fresh water to the glass.
Once this is done, let the okra marinate overnight or for 24 hours if possible. This will allow the okra to soften and better infuse the water.
You can then remove the okra and squeeze the contents into a clean glass. Then pour the infused water into the new glass and stir to make your okra juice.
This recipe is a great way to lower your blood sugar and thus fight diabetes.
6. How Do You Make Okra Shakes?
Okra shakes are prepared in a fairly simple way. First, you need to boil some okra in water, preferably 2 cups of water, for 4 to 5 minutes.
Then, you will have to put in a blender, milk, egg, cognac and nutmeg. Once this is done, mix for at least 30 seconds before adding the okra water that you will have let cool. To finish, you will only have to pour ice.
7. In What Other Form Can We Consume Okra?
If the okra is a beneficial plant, it is interesting to know which are the various ways of consuming it.
A reminder that whatever techniques you use to cook okra, it expires quickly, so it is best to eat it the same day or the next day at the latest.
Okra can be added as a raw vegetable in a salad or as a cooked, boiled, fried, or even grilled ingredient for soups, stews, frying, grilling, sauces, etc.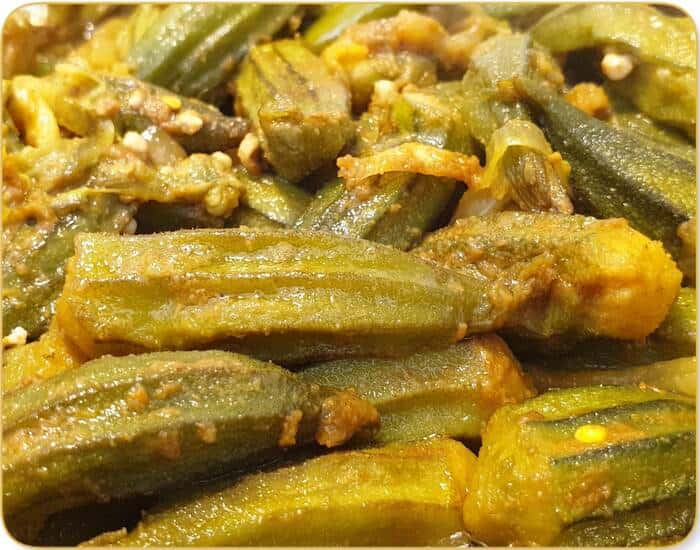 8. Okra Recipes for Diabetics
Tasty, original, atypical but above all, rich in nutritional value and healthy, here are the recipes based on okra for people with diabetes.
# Recipe for Risotto Saint-Moret
Ingredients:
150 g of special rice for risotto (75 g of complex carbohydrates per 100 g)
4 fillets of pollack fish
100 g snow peas
200 g peas
150 g okra
250 g green asparagus
50 cl chicken stock
10 cl of white wine
150 g of Saint-Moret (light)
1 shallot
1 egg
Parmesan cheese (quantity is up to you)
1 half lemon
Preparation:
Peel the tail of the asparagus.
Steam them with the rest of the vegetables (including the okra) for 15 minutes.
Drain under cold water. Cut the tail of the asparagus in small pieces and keep the head. Then, put them aside.
Fry the chopped shallot in a pan with a little butter and add the rice: fry until the rice becomes translucent.
Pour in the white wine and ¼ of the broth and let it absorb. Add the rest of the broth and let the preparation cook over medium heat for 20 minutes. Five minutes before the time runs out, add the cut pieces of asparagus tail.
When the preparation has finished cooking, add 50 g of Saint-Moret and the desired amount of grated parmesan cheese.
Take a saucepan, put two tablespoons of water and add the egg yolk. Heat on low heat and beat the mixture for five minutes, to obtain a Sabayon.
While beating the mixture, add 100 g of Saint-Moret and then the lemon juice: your preparation should be smooth (if not, put it in a blender before serving).
Fry the pollack for 3 to 4 minutes on each side and when it's done, you can serve it hot with your risotto, vegetables and sabayon!
# Recipe for Okra Salad with Lentils
Ingredients:
200 g lentils (30 g of complex carbohydrates per 100 g)

200 g okra (2 g simple carbohydrates per 100 g)

150 g peas (7 g complex carbohydrates per 100 g)
Preparation:
Rinse the lentils, incorporate them in a saucepan with more than 3 times the volume of water.
Cook over low heat for 25 minutes.
Scoop out the peas and add them to the mixture with the okra 10 minutes before the lentils finish cooking.
Once finished, let cool and add salt.
You can choose to garnish with avocado oil and mango vinegar or let people use them as they wish.
IV. Other Benefits of Okra
If okra has benefits on diabetes, it is also known for: lowering cholesterol, reducing asthma, boosting the immune system, healing fever, contributing to a healthy pregnancy and many other things…
The okra, in addition to being excellent to fight against diabetes, is an ingredient of very good quality allowing to regulate the cholesterol level in the body.
It is also useful for strengthening the immune system, improving eye health, and its consumption reduces the risk of kidney disease.
V. Is It Better to Drink Okra Water in the Morning?
Yes, it is preferable to consume okra water in the morning and especially on an empty stomach to obtain an optimal effect.
VI. Potential Side Effects of Okra (Lady Finger) for Diabetics
For diabetics, it should be noted that the consumption of okra can affect the functioning of certain drugs.
Some studies have even proven that the consumption of diabetes had a negative influence on the functioning of metformin hydrochloride.
VII. Other Questions About Okra Water for Diabetes
1. Can I Drink Okra Water Daily?
You can drink okra water every morning before you go to work. However, it is necessary to make sure that you take a reasonable amount and not in excess.
It is always advisable to take breaks of a few days between two courses of treatment with okra water and to watch for any side effects.
2. Does Drinking Okra Water Make You Wet?
It is true that okra water can be used as an aphrodisiac, to intensify pleasure during sex.
However, the consumption of okra water can in no way be associated with exciting properties.
3. Is Okra Water Good for High Blood Pressure?
The consumption of okra water is an effective way to fight against high blood pressure. Indeed, the consumption of okra water contributes to the good functioning of the heart and leads to the dilation of the blood vessels.
4. Is Okra Water Good for Cholesterol?
Okra water is also excellent for lowering cholesterol levels in the body. Okra, which is its main ingredient, helps regulate cholesterol levels. It does not contain any, and has very little fat.
5. Can I Soak Okra in Hot Water?
The answer is simply "yes". Okra can be prepared with all kinds of liquids and natural ingredients, whether hot or cold!
6. Is Okra Good for the Kidneys?
According to studies, people who eat okra on a daily basis are half as likely to develop kidney disease. And this phenomenon is especially marked in diabetics.
7. Can You Blend Raw Okra?
Yes, it is possible to do this. However, to avoid germs, you will have to rinse the okra well and cut off both ends before putting it in the blender. Also, add a little water to make it easier to blend.
8. What Can You Mix with Okra?
You can mix okra with all sorts of things. Whether it's with meat for dishes, or with fruit for drinks, there is no downside.
9. Can I Take Okra Water and Folic Acid Together?
It is not really advisable to do this since okra also contains folic acid.
You may end up with too much folic acid in your body, giving rise to possible side effects.
10. Can You Add Lemon to Okra Water?
Yes, it is possible to do so, but you will have to pay attention to the digestive tolerance of each person.
11. How Do You Make Okra with Vinegar?
To make okra water with vinegar, simply perform the same experiment as if you wanted to make simple okra water. The only difference is that you add vinegar to the boiling water.
12. How Do You Boil Okra and Tomatoes?
To do this, you must first grate the okra before putting it in. This will ensure that both ingredients are cooked perfectly.
Useful Links:
Okra (Abelmoschus Esculentus) as a Potential Dietary Medicine with Nutraceutical Importance for Sustainable Health Applications